Doctors & Staff
Meet the experienced and friendly doctors and staff who make Eagle Eye Care a proud provider of vision care products and services in Denham Springs.
Katherine Dronka, OD, ABCMO, FAAO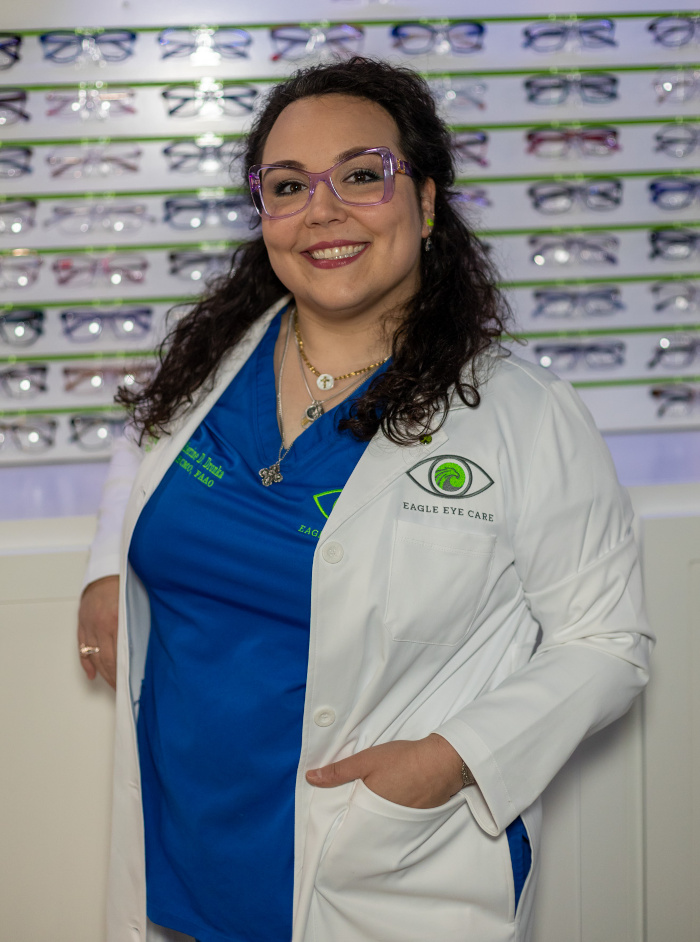 Katherine Dronka, raised by two military parents, considers the suburbs of Houston, TX home. She graduated from Baylor University with a B.S. in Neuroscience, and from Inter-American University of Puerto Rico with a Doctor of Optometry. After graduation, she completed a residency in Ocular Disease at the John D. Dingell VAMC in Detroit, MI. During residency she advanced in treatment and management of both ocular and systemic disease such as glaucoma, diabetic and hypertensive retinopathy, optic neuropathy, macular degeneration, and more. She also precepted rotating optometry externs in both clinical and classroom-based settings.
After residency, she completed a fellowship of Ocular Disease and Ophthalmic Surgery in Carthage, TX and Logansport, LA. The fellowship was the first of its kind, making Dr. Dronka the inaugural fellow in the nation.  During the training, she oversaw in-house interns and taught laser procedures and surgery to the rotating externs.  It was during residency and fellowship that she realized her love for working with students and became an Assistant Professor of Optometry at KYCO in Pikeville, KY to teach the future of the optometric profession.  At KYCO she developed the surgical curriculum, both laser and optometric surgical procedures, set-up the on-campus surgical suite, and provided clinical care to patients at the local hospital and on campus.  She oversaw third- and fourth-year students during their clinical rotation and guided their diagnostic abilities. From academia, Dr. Dronka moved to Louisiana and provided clinic care at Shenandoah Eye Clinic, a high-volume medical optometry private practice. She co-managed patients with a multitude of medical specialists, including rheumatology, primary care, cardiology, neurology, retinal specialists, and ophthalmology.
In Louisiana, she can practice full-scope surgical optometry, which allows her to provide the best care to her patients. Dr. Dronka can perform laser procedures such as glaucoma treatment and the removal of secondary cataracts.  Of her surgical specialties, her favorite is the removal of lesions using radiofrequency technology, which vaporizes benign lesions leaving no scar tissue and flawless results.
Dr. Dronka took her clinical knowledge and experience and set out to open her own private practice named Eagle Eye Care located in Denham Springs, LA. The practice name is a salute to her late father, Colonel Paul Dronka. She provides exceptional care to all patients, always. She believes that each patient should be an active participant in their care and takes the time to find the best treatment and management options for each individual patient, customizing the patient experience. She believes in preventative medicine and working closely with all medical specialists to ensure complete and thorough patient care. She is so excited to become involved in Denham Springs and be able to share her passion with her patients and their family and friends!
Dr. Dronka enjoys hiking, traveling locally and internationally, kayaking, being involved in her local church and community, and spending time with her family and pets. She wishes to continue her medical mission trips, especially to Spanish-speaking nations, as she is bi-lingual in medical Spanish, and to continue learning sign language to provide ocular health assessments to the deaf and hearing-impaired population of Denham Springs and the surrounding areas.
Education

Bachelor of Science in Neuroscience

Baylor University, Waco TX

Doctor of Optometry

Inter-American University of Puerto Rico – School of Optometry

Residency, Ocular Disease

John D. Dingell VAMC, Detroit MI

Fellowship, Ocular Disease and Optometric Surgery (inaugural fellow in the nation)

Desoto Regional Health Center, Logansport Louisiana

Teaching

Former Associate Professor at the Kentucky College of Optometry

Course Director

Ophthalmic Surgery I: Laser Procedures
Ophthalmic Surgery II: Injections & Periocular Surgery

Course Instructor

Physical Diagnosis & Neurological Assessment
Clinical Internship
Ophthalmic Optics
Ocular Pharmacology
Pre-&-Post-Operative Management

Service

Charter member of the American Society of Optometric Surgeons
Surgical Preceptor for the state of Kentucky
Admissions and Faculty Search Committee for KYCO
AAO Strategic Planning Committee Appointed Member
Remote Area Medical – Grundy, VA – Attending doctor
Lions Club Clinic – Pikeville, KY – Attending doctor
Pray. Love Mission Work – Bayamon, PR – Attending doctor

Awards

AAO Travel Grant Recipient (2015)
IAUPR Optometry Research Award
Recognition of Medical Optometry and Clinical Eye care
Humanitarian and Community Service Award
The President's Volunteer Service Award (>4,000 hours volunteer work)
Fellow of the American Academy of Optometry

Certifications

National Board of Examiners in Optometry
Laser Therapy for the Anterior Segment
Surgical Procedures for the Optometric Physician
Hospital Privileges and Medical Consulting
American Board Certified in Medical Optometry (ABCMO)
Basic Life Support (BLS)
Advanced Cardiac Life Support (ACLS)

Professional Memberships

American Society of Optometric Surgeons (ASOS)
American Diabetes Association (ADA)
American Academy of Optometry (AAO)
American Optometric Association (AOA)
Contact Lens and Cornea Section (CLCS)
Louisiana Optometric Association (LOA)

Publications

"Topography vs Keratometry" in Back-to- Basics Issue March 2014
"Top 10 Reasons to get Involved in Optometry School" in Optometric Insights 2015
---